Susan G. Komen San Diego is marking a very real anniversary with a virtual bash
Susan G. Komen San Diego's 25th More Than Pink Annual Dinner will keep its original date, however it will be hosted completely virtually.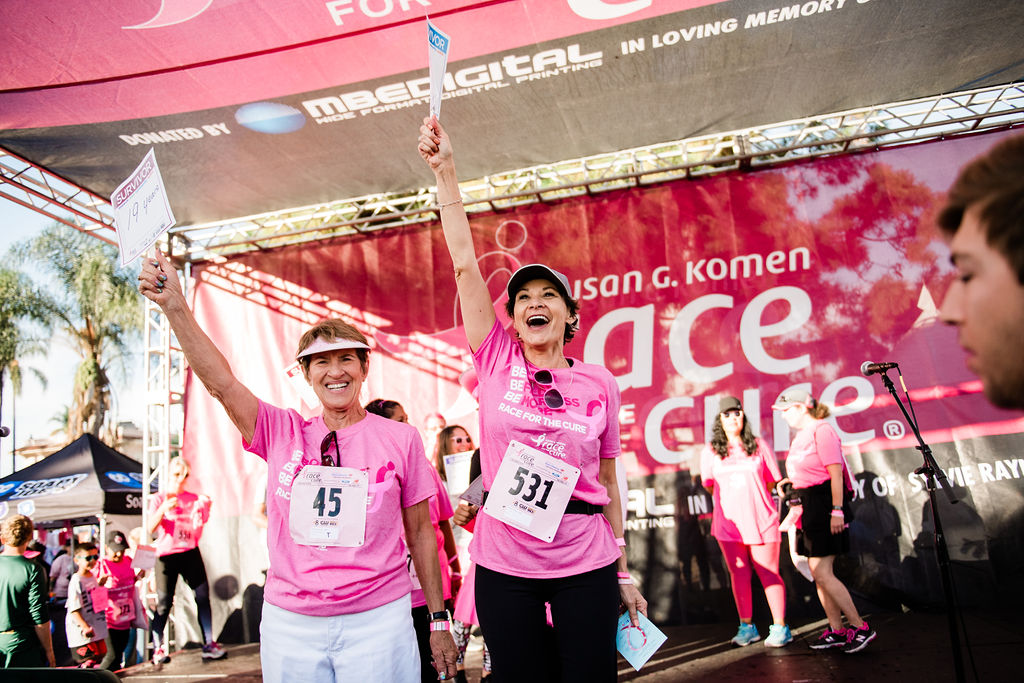 Susan G. Komen San Diego's 25th Anniversary Virtual Bash
Posted on May 21, 2020
When Meredith Hall-Chand was tapped to step into Susan G. Komen San Diego's interim CEO position on March 3, she couldn't have imagined she'd be leading the company during a global pandemic, and inside of 90 days from one of their biggest fundraising events of the year — on top of it already being a significant milestone anniversary for the breast cancer advocacy, research, and community assistance organization. However, that's just what happened, and Hall-Chand, previously the director of development, is embracing the role with aplomb.
"We've had to change and shift and be creative in ways that [we're] not used to doing things," Hall-Chand says. "It's been a lot of work but a lot of fun, actually. There aren't very many to be in this trailblazer position."
With planning for its 25th anniversary celebration, the More Than Pink Annual Dinner, already well underway as the world started to respond to the pandemic, the organization decided to forge ahead and keep its original event date of May 29 with a major adaptation: it will be hosted completely virtually. The roughly hour-long experience will feature a silent auction, giveaways, patient stories, and many more surprises. It will also be an opportunity to celebrate the accomplishments of the organization's past quarter-century. "We've had so many people lay the groundwork for everything that has been accomplished over the years with Komen, so we want to celebrate those people at our dinner, and celebrate those who've made great contributions to the organization in helping decrease mortality rates," says Hall-Chand.
Anyone may register for free to view and bid in More Than Pink's silent auction, which will open prior to the actual event date. Or, tickets can be purchased for $125 each (or $1,250 for a table) to virtually "attend" the hour-long livestreamed event, which will also include a commemorative pin and additional planned surprises that will take place throughout the program. Those guests will also receive a $25 gift certificate with their ticket (or ten per virtual table purchased) to a list of restaurant partners that deliver to encourage people to enjoy great food as they join the event from their home. Both registration and ticket purchases are encouraged to be completed prior to May 19.
Though she acknowledges that many people think of theirs as a "walking organization" due to its incredibly successful annual Race for the Cure, Hall-Chand emphasizes that it's much more. From providing financial assistance to women during treatment, covering costs when insurance does not, and educating women on the importance of regular screenings to advocacy at the state and federal levels and funding research, Komen San Diego's web is cast far and wide in the battle against breast cancer, serving 5,000 individuals annually in our community.
Survivor Soraya Ruelas can personally attest to Susan G. Komen San Diego's impact on the lives of women waging a breast cancer battle. She initially reached out to them for assistance finding a specialized post-mastectomy bra following her procedure in October 2017, but they provided so much more. Just a week after initially contacting them, a care coordinator arrived at her house with gas cards, money for food, and then helped her sign up for additional financial assistance as Ruelas waited for her disability benefits to begin. "They paid my mortgage for two months. The timing of Susan G. Komen and what they did was a godsend," she says. The assistance with food and transportation helped far beyond what it would seem. She recalls her daughter coming to her, offering her $250 to pay her chemo co-pay, and the relief that because of Komen, she wouldn't have to take it. "You have to really understand the things that you're grateful for, even if it is just having food and gas and a roof over your head. Going through this, that was something that became my anthem." komensandiego.org   Deanna Murphy
Photography courtesy of Susan G. Komen San Diego