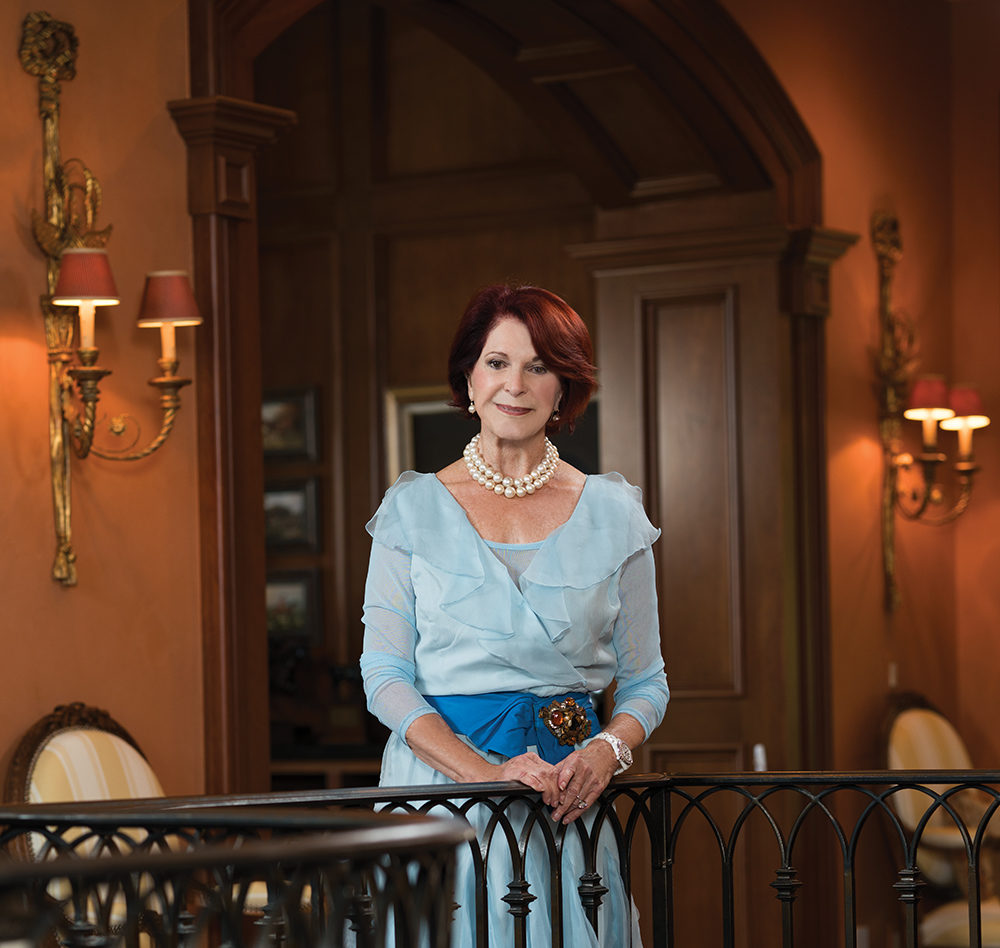 At Home With Jenny Craig
Posted on September 1, 2017
Jenny Craig and I are chatting in her beautiful blue kitchen at her home in the Del Mar Country Club. "What's in your refrigerator?" I ask with a laugh. The question might seem too personal, even impertinent, under different circumstances. But this is Jenny Craig, who, with her late husband, Sidney (Sid), launched the eponymous weight loss program that became one of the largest and most successful in the world. Without hesitation, Craig opens the refrigerator door and we scan the contents: yogurt, eggs, almond milk, avocados, buttermilk for biscuits, dog food, bottles of water, and a bit of leftover pasta. "I don't eat much pasta, but I just got back from a trip to Italy and I missed it," she confesses.
On September 14, The Country Friends is honoring Craig, a philanthropist as well as entrepreneur, for her longtime commitment to community at the Art of Fashion luncheon and runway show in partnership with South Coast Plaza. Craig is known for her support of United Way, American Red Cross, Salvation Army, San Diego Police Foundation, and victims of Hurricane Katrina, among many other causes. She is especially passionate about helping military families through such organizations as the SEAL-Naval Special Warfare Family Foundation. "People in service to our country have top priority when it comes to our philanthropy," says Craig. "Nothing we can do is payment enough for the sacrifices men and women in uniform make." She also supports Fresno State, her husband's alma mater, which named the Craig School of Business in his honor in 1992. The University of San Diego dedicated the Jenny Craig Pavilion for sports and recreation in 2000.
During our visit, Craig showed Ranch & Coast around her elegant home, decorated in French provincial style. Everything was beige when she bought the house, she says, but she loves color. The living room is now faux painted a soft yellow, the kitchen is wall-papered in a blue-and-white toile, and the dining room is a vivid red. Craig has furnished the home with fine French and Spanish antiques, treasures from travels, and family photos and mementos. Although she obviously has the run of the house, she spends much of her time in a comfortable office where she showed me a manuscript, a memoir-in-progress, which she plans to publish exclusively for family and friends. But she shared some of the details of her fascinating life with Ranch & Coast.
She was born Genevieve Guidroz, the youngest of six children, growing up in a loving, working class family in New Orleans during the Great Depression. She recalls that her father was always at work, juggling several jobs while her mother cared for the family. "I never felt poor," Craig reflects, "because everyone else was in the same boat." But after 30 years of marriage, her parents divorced and her mother suffered a series of strokes. Craig, who was the only child still at home, tended to her mom during a three-month hospital stay, rarely leaving her side. Her mother died at just 49 years old. The loss proved to be a turning point for Craig, who decided not to enroll, as she had planned, in dental hygiene school. She married and had two children of her own.
After gaining 55 pounds during her second pregnancy, Craig joined a local gym and eventually began working there. "People thought I chose the weight loss business," she recalls. "It chose me. If I hadn't gained weight, I would never have thought to go into the business." It was during this time that Craig saw a tangible connection between weight loss and self-image. "It doesn't just affect your body size, but the way you see yourself, and your interactions with others. It's very powerful. It is like a metamorphosis."
She eventually met and later married Sid Craig, whom she regarded as a "marketing genius." Together they ran Body Contour Inc., a women's figure control business. After they sold the company to NutriSystem, a non-compete clause led them to Australia, where they launched Jenny Craig, Inc. in 1983, a weight management program that combines nutrition, counseling, and physical activity. Why did they name the company after Jenny? "It sounds like a real person," was the feedback from a focus group. The name stuck. Soon, she was doing live commercials on the Australian equivalent of the Johnny Carson Show. "It was crazy," she recalls. "The phone started ringing off the hook. I couldn't walk down the street without kids waving and yelling, 'Jenny!'" The couple returned to California after their non-compete clause expired, turning Jenny Craig, Inc. into one of the world's top weight loss companies, with more than 750 centers in four countries. The company, which eventually sold to Nestlé for $600 million, is now owned by North Castle Partners.
Jenny Craig, Inc. was known for high profile spokespeople, including a Craig favorite, the actress Valerie Bertinelli, whom Craig found to be "so charming, delightful, and down to earth." But Jenny was the company's most famous symbol and spokesperson, known for delivering commercials flawlessly, and in one take. Her role as spokesperson ended when she dislocated her jaw in a freak accident at her home, a condition known as "focal dystonia," which affected her speech. Craig consulted 18 doctors and underwent painful therapy and surgery in order to talk again. That difficult period taught her "to really appreciate the blessings you have," she reflects. "I had to make a decision — either stay in and live like a recluse or have people accept me the way I am." She resumed her active social life with friends and a blended family: five children, 15 grandchildren, and one great-grandson.
Craig has noted "a paradigm shift" during her years in the weight loss industry. "Now it's a combination of not only looking good, but eating healthily and exercising so you live longer." At 85, she still practices what she preaches, eating nutritious food and exercising daily on a recumbent bike and Pilates reformer in her home gym. But she insists ''nothing is off limits" and enjoys such favorite restaurants as Mille Fleurs and Bertrand at Mister A's (proprietors Denise and Bertrand Hug are close friends), Pamplemousse Grille, and Market Restaurant + Bar.
After our interview, she prepared a wholesome lunch at her kitchen counter — avocado sprinkled with olive oil and seasonings on whole grain crackers. "Breaking bread" was a fitting way to end my visit with Jenny Craig, sharing a meal together that was simple, healthy, and delicious.   Andrea Naversen
Photography by Vincent Knakal
Save
Save