At Home With Nick & Samantha Binkley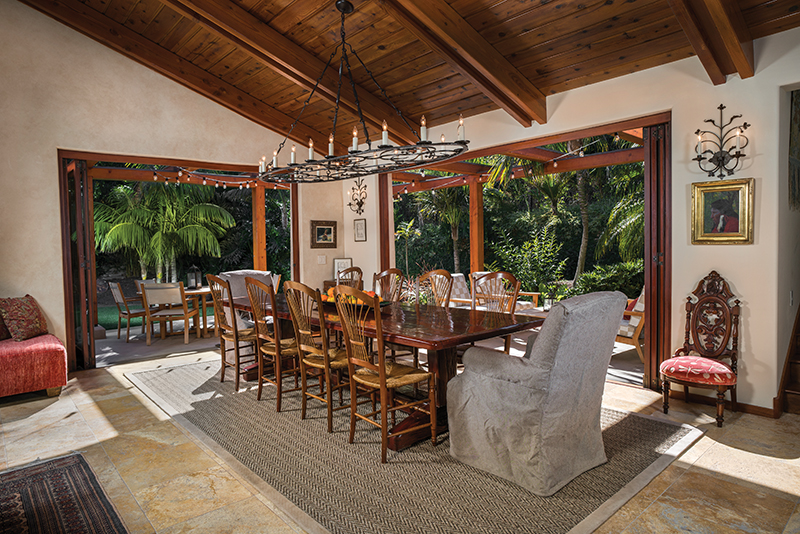 At Home With Nick & Samantha Binkley
"It felt like home," Samantha (Sam) Binkley recalls, upon seeing, for the first time, the house at the end of a winding dirt road in Del Mar. Although the property was in disrepair, she could see its promise. "It felt like the island to me, with the fruit trees and the palms," says Binkley, who was born in the West Indies town of St. Ann's Bay. "It was a little Jamaican paradise." Husband Nick quickly agreed.
The couple purchased the one-acre property in 2012, transforming it into a lush tropical retreat, one of nine homes featured in "From the Valley to the Sea," the San Diego Horticultural Society's Garden Tour on Saturday, April 2, from 9am-4pm. Landscape architect Greg Stone drew up the plans, which the Binkleys executed with the help of garden designer and horticulturist Steve Anthony and landscape firm JPBLA, Inc. The couple's gardens highlight the palm collection of the previous owner, the late Dr. Kenneth Gerber, a longtime member of the International Palm Society. Hundreds of palm trees — king, kentia, fishtail — dot the property, representing more than 40 species from around the world. The sweet scent of jasmine, gardenia, and trumpet vines, chosen by the Binkleys for their fragrance as well as appearance, perfume the air. Fruit trees hang heavy with tangerines, grapefruit, red Malaysian guava, lemon, and lime.
A kitchen garden bursts with flavor and color: blue Tuscan sprouts, purple kale, red and yellow beets. It is here that Sam, a certified health coach, picks produce and herbs (fennel is a favorite) for her popular cooking classes. She even has a dedicated "juice bed," growing vegetables for nourishing shakes and smoothies. Fresh eggs come from a flock of chickens, including a fluffy Buff Brahma, a black-and-white Dominique, and Raven, a mix between a Silkie and a Blue Andalusian.
A vanishing-edge pool, surrounded by palm trees and papyrus, a quartzite-paved patio, fire pit, and outdoor kitchen, invites entertaining. La Cantina doors bring the outdoors in. Inspired by Craftsman and Asian architectural styles, the home's open floor plan combines the main living and dining areas in a single, large room. The space incorporates natural materials of wood and stone, from ceilings of Douglas fir to travertine floors and a fireplace fashioned from buffed concrete. Custom built-ins include mahogany and etched glass kitchen cabinets, and, for a cozy touch, a window seat.
The Binkleys' home also reflects their fascinating lives. In the corner of the great room, a piano is stacked with CDs from PSB Records, the San Diego label that Nick founded. A venture capitalist and former banker with Chase Manhattan and Security Pacific International, among others, he also has been a singer, songwriter, and musician for more than four decades, with three albums to his credit.  Nick's collaboration and friendship with Soviet rock stars over the years has led to FREE 2 Rock, a documentary film that he conceived and co-produced, which analyzes how rock and roll contributed to the end of the Cold War. The film, directed by Emmy-winning filmmaker Jim Brown, is tentatively scheduled for release late this year or early in 2017.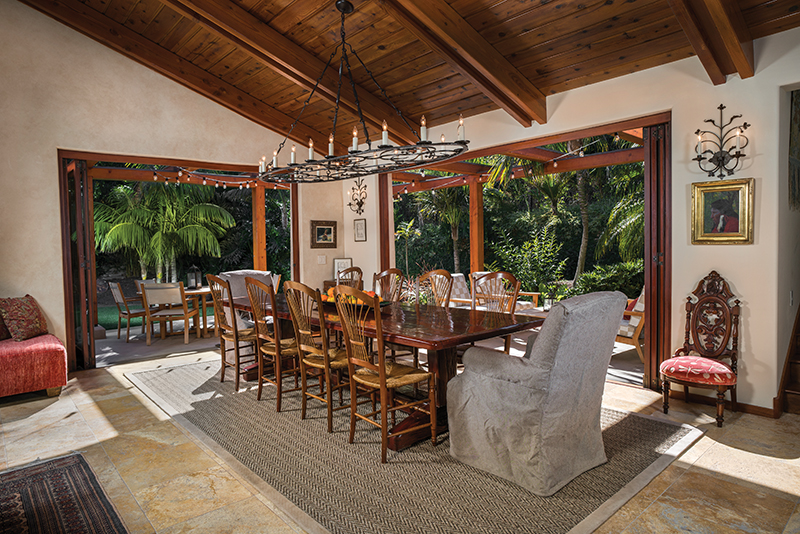 Sam, who worked in advertising in New York, moved to San Diego after 9/11. "I watched the towers come down," she remembers. "It was very traumatic." The former director of marketing for a high-tech firm made another life-changing decision when her daughter went off to college. "I want to do something I love. I want to pursue my passion. I want to teach people how to eat well and live a healthy life." That passion led to "Healthy on You" lifestyle coaching for heart and health, as well as a Web site and blog, all offering tips on health and nutrition, meal planning and portion control, exercise, and stress management. The cooking classes and community events are a natural offshoot, says Sam, because "our home lends itself to bringing people in, cooking, and enjoying the space that it provides."
Indeed, the heart of the Binkley home is the kitchen, where Sam teaches students how to make dishes that are both delicious and nutritious. One recent menu included a Mediterranean "noodle" salad made with spirals of zucchini squash, fresh pesto, and tomatoes, lemon cod roasted with onions and fennel, and a dessert of blood orange sorbet.
At the end of one laughter-filled class, fueled by camaraderie and, no doubt, a few glasses of local organic wines, students gathered at the nine-foot-long dining table in the great room to share the bounty from the Binkleys' gardens. It was "Cheers!" all around. healthyonyou.com, nickbinkleymusic.com   ANDREA NAVERSEN
Photography by Vincent Knakal