At Home With Kimberly Hunt & Billy Ray Smith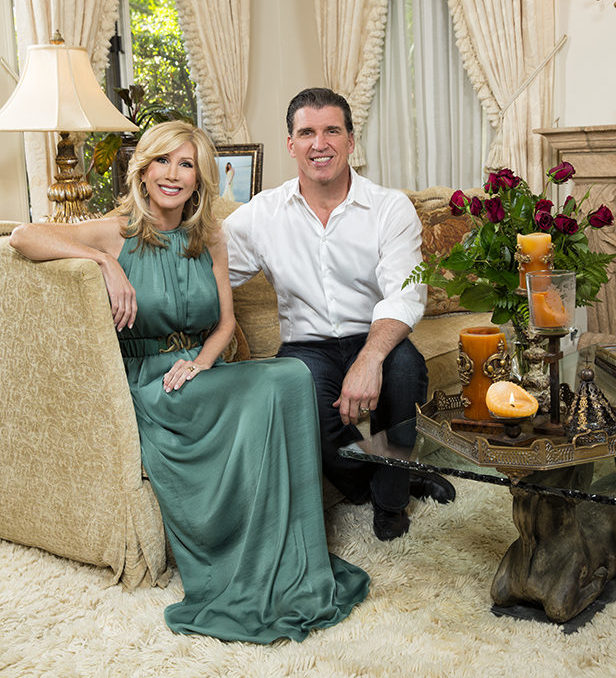 At Home With Kimberly Hunt & Billy Ray Smith
Posted on March 4, 2013
When they were married 22 years ago, their storybook wedding was the talk of San Diego: the beautiful newscaster teaming up with the hunky football player. In the years ever since, Kimberly Hunt and Billy Ray Smith have shown us that fairy tales do come true. The couple has a 20-year-old daughter (now in college), successful careers, a string of accolades, and charitable causes to which they are devoted.
Recently, the couple showed Ranch & Coast around their Del Mar home, elegant and comfortable, filled with art and fresh flowers expertly arranged by Hunt herself, and mementos from their travels. For instance, among their prized possessions are the copper pots they bought on their honeymoon at an Istanbul bazaar. They laugh as they remember what must have been a comical sight — Smith lugging huge boxes of copper pots down the narrow streets as passersby called him "Rambo," a reference to the action star played by Sylvester Stallone.
Hunt, a longtime San Diego newscaster, co-anchors evening newscasts at 10News (KGTV), while Smith co-hosts an afternoon talk show on XX Sports Radio (1090 AM), as well as TV broadcasts during the football season. Icing on the cake for the couple is that, for the first time in many years, they are on the same side of the clock, both working pm, rather than am shifts. While raising daughter Savannah (now a junior at Cornell University), Smith would leave early in the morning for his radio show. Hunt, meanwhile, would report to the television studio in the afternoon. While the schedule took some juggling, the result was that their daughter had both parents in her life. Smith says he got to spend more time with his daughter than most dads who work more traditional schedules, including watching Savannah's after-school volleyball practices.
Smith, an All-American at the University of Arkansas, considers himself "incredibly blessed" to have been drafted by the Chargers in 1983. "I came out here, and San Diego has been everything I could have dreamed of," he says. "Honestly, I don't want to sound sappy. It's just the way it is."
In fact, Smith played his entire ten-year NFL career in San Diego, and was voted one of the 50 greatest Chargers of all time in 2009. But most special, Smith was inducted into the College Football Hall of Fame in 2000, an honor he got to share with his father before he passed away. Billy Ray Smith, Sr., who also played for the Arkansas Razorbacks, was a 13-year NFL pro who retired after his Baltimore Colts defeated the Cowboys in Super Bowl V.
His playing days now over, Smith is talking — sports, of course. After a brief morning stint on UT-TV, he teams once again with Scott Kaplan on XX Sports Radio from 3-6pm weekdays. "I get to talk about sports on the radio for a job," he says with a laugh. "Come on, how can you beat it? Getting to talk to the people in San Diego who want to call in and want to talk about [sports]. It's the best thing ever."
Hunt, the daughter of a now retired CHP officer, was raised in Napa and graduated from San Francisco State University. She got her on-air start in Monterrey, California, before moving to San Diego in 1987. During her decades on San Diego television, she has earned, among other honors, seven regional Emmy Awards, as well as an Edward R. Murrow award for her report, "Tracking the Mexican Mafia — inside Donovan State Prison." Hunt, whose beat includes border issues and federal agencies, learned from sources that prisoners were operating a criminal empire from behind bars, ordering contract killings, drug deals, and extortion, with the help of smuggled-in cell phones. The gutsy newscaster accompanied investigators and police dogs on a surprise — and dangerous — prison raid, what she calls "a life-changing experience."
While Hunt and Smith have had job opportunities elsewhere, they decided years ago that San Diego, their adopted home, was where they wanted to be. "We talked about how this city has embraced us, both of us, him as a football player, and me as a newscaster," Hunt recalls. "People here have been so gracious. We just wanted to raise Savannah here, so we did make the choice to stay, as a family. I have not regretted a day of it because this community is now what we care about, what we are committed to, what we're a part of."
Those commitments include emceeing numerous events for San Diego nonprofits including the Beach & Country Guild's annual Dia del Sol to benefit United Cerebral Palsy, Cystic Fibrosis Foundation, and the San Diego Burn Institute. Hunt also is involved with the CHP 11-99 Foundation, which provides money for the families of fallen officers, including college scholarships. Her reasons are very personal: her late grandfather, a constable in Ojai, died in the line of duty after tracking an escapee, leaving behind a wife and family. Hunt's father, just nine years old at the time, would later make law enforcement his career. In a similar vein, the Great Friends Foundation, which Smith co-founded with co-host Kaplan, is dedicated to San Diego County's first responders and their families, offering financial aid and linking them with programs and services.
As for that fairy tale, however charmed the Smiths' lives appear to be, there has been no magic wand. It has taken hard work, and a strong commitment to each other, to balance a home life with two high-profile careers.   Andrea Naversen
Photography by Vincent Knakal