At Home With Kelly Emberg & Mike Padilla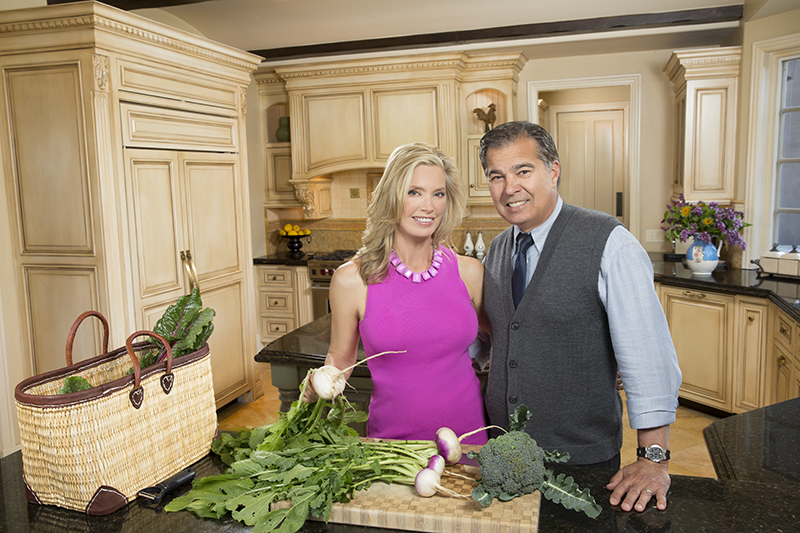 At Home With Kelly Emberg & Mike Padilla
Posted May 9, 2013
It began as the seed of an idea, one that is now beginning to bloom. Former super model Kelly Emberg, now a Rancho Santa Fe wife, mother of three, interior designer, and avid gardener, is about to debut a national radio show aimed at teaching us how to grow, or at the very least, to appreciate the earth's bounty. Called "Kelly Emberg, The Model Gardener," the show will air this spring on iHeartRadio, an Internet radio platform owned by Clear Channel Broadcasting. "I want to inspire people to understand their food," says Emberg. "That's where it started."
Emberg's passion for gardening began when she and her husband, attorney Mike Padilla, moved to their Fairbanks Ranch home in 2007. Padilla built a greenhouse so she could grow orchids. The greenhouse proved too hot for the flowers, but Emberg's produce thrived, an experience that transformed her. "When I water my plants, the hummingbirds dance in the water," she says with wonder. "So all of a sudden, it brings you back to the simple things, back to nature." She soon carved out beds in the couple's expansive backyard, amending the soil and installing irrigation. Now, almost daily, she harvests colorful fruits and vegetables by the basketful: yellow cauliflower, deep green kale, white onions, red beets, purple kohlrabi, and plump blueberries. There are citrus trees heavy with tangerines, lemons, and the limes that make their way into Padilla's killer margaritas.
Emberg's peaceful garden in Rancho Santa Fe is far from the cacophony of New York City, where fresh out of a Houston high, she signed with John Casablancas's Elite Model Management in 1978, a move that would launch her career. Her athletic, All-American, girl-next-door-good looks catapulted her onto the covers of British Vogue, Bazaar, Mademoiselle, Glamour, Cosmopolitan, and Sports Illustrated. Her assignments took her all over the globe — Egypt, Jordan, Japan, Costa Rica, Bora Bora — where she worked with such legends as Richard Avedon, Irving Penn, Francesco Scavullo, Patrick Demarchelier, and Annie Leibovitz. "I was very young," she recalls. "And I traveled the world and worked with the best photographers and makeup artists, and really creative people. That also made me who I am today. The reason I have it in my head that 'it's possible 'is because I watched it."
Emberg's longtime relationship with rocker Rod Stewart produced a daughter, Ruby, now 25 and a singer-songwriter in Los Angeles. After the couple split in 1990, Emberg bought a house in Manhattan Beach, and studied architectural and interior design at UCLA, working as a paid intern for top Santa Monica interior designer Michael S. Smith. Over the past 20 years, her clients have included such celebrities as Patricia Arquette, Pam Dawber and Mark Harmon, Julianna Margulies, and, ironically, even her ex, Rod Stewart and his wife, Penny. "I was cheaper than other interior designers," Emberg says with a hearty laugh, a fact that, she says, appealed to the singer's thrifty Scottish side.
Padilla, who grew up in the Imperial Valley, moved to San Diego to attend San Diego State University and never left, earning his law degree at the University of San Diego. A top civil trial attorney who was twice named "Outstanding Trial Lawyer," Padilla is a founding partner of O'Mara & Padilla. He and Emberg met through a mutual friend, dating for two years before they were married at the Del Mar Country Club. The couple bought their 8,100-square foot home in Fairbanks Ranch (which Emberg remodeled in just four months) to accommodate their family — her two sons and his three grown children and seven grandchildren. (They also have two dogs, a tankful of fish, and a cockatoo named Jackson.) The couple also blended their tastes, marrying his heavier, Tuscan-style furnishings and oil paintings with her lighter side, including Mucha posters from Paris. To fill in the gaps, the two traveled to San Francisco, buying antiques at auction from Bonhams and Butterfields, and fine 18th century antique reproductions from Burton-Ching. Emberg fills the house with flowers, many grown herself, expertly arranging pitchers of lilacs and sunflowers, sweet peas or tulips. The result of their efforts is a traditional, eclectic home that is both elegant and livable.
Now, in her 50s, Emberg is still drop-dead gorgeous and physically fit, with a down-to-earth, unassuming manner, boundless energy and a big, hearty laugh. She left the bright lights of Los Angeles and New York behind, but she definitely did not move to Rancho Santa Fe to retire. "I don't think it's in me," she says. "I get excited about life, and I think there are so many possible things to do." With two careers under her belt, Emberg is busily working on the third, with plans for a television show, books, and branding based on her gardening. Her iHeartRadio show, which can be downloaded on free apps, features step-by-step instructions on how to start and nurture your own garden. There are also interviews with chefs like Andrew Spurgin, farmers, nutritionists, scientists, and Emberg's modeling pals including another Rod Stewart ex, Rachel Hunter, who is a beginning gardener. "The response [to the show] is so amazing," says Emberg, "because people who deal with food are extremely passionate about the planet, doing the right things and eating the right stuff."
Are you re-inventing herself?" Emberg is asked. "Absolutely," she says without hesitation. "Always. Why stop? People who are my age, I want them to believe they can do anything they want — there is so much opportunity out there. You just have to want it, and believe it, and go for it big time." As far as Emberg is concerned, you never stop growing. "One seed," she insists, "will change your life." kellyemberg.com   Andrea Naversen
Photography by Vincent Knakal