Anything But Everyday Italian
She resides a short drive north in Malibu and, through the magic of television, is teleported into San Diegans' homes on a daily basis, but getting an authentic taste of celebrity chef Giada De Laurentiis' signature fare will require a desert crossing to the heart of Las Vegas. On June 3, the Emmy Award-winning Food Network talent known for celebrating her star-studded Italian lineage through food on shows such as Everyday Italian and Giada At Home will debut her first-ever restaurant, Giada.

Located at the bustling intersection of Las Vegas Boulevard and Flamingo Road, the namesake venue is the singular eatery at The Cromwell, the first boutique hotel ever built on The Strip. It was the allure of such high-profile real estate and the posh lodging's belief in De Laurentiis and her cuisine that led the spritely spitfire to transition from celebrity chef to restaurateur. The way she saw it, if she was going to take such a risk, she was going to go big.

"I've always been more about taking big leaps rather than just dipping my toe in the water," explained De Laurentiis during a hardhat tour of her new baby. "It's not for everybody," she admitted, noting that her life would have been just fine without embarking on this latest chapter, but providing her fans a tangible piece of herself was very important to her. As such, expect a space that is comfy and domestic rather than stark and ultra-luxe.

De Laurentii worked to install touches of home sweet home. That meant again going against the typical Sin City grain and putting the food ahead of the bar. Rather than encountering a station stocked with bottles and taps first thing, visitors will enter upon a station featuring an array of house-made antipasti, a first for any Italian restaurant on The Strip.

Another first will come from a wood-fired apparatus abutting the antipasto bar — pizza. Though she's taken on Italian specialties hailing from Rome to Sicily, she's shied away from this crowd-pleasing favorite. "In my family, pizza is made using a pizza oven, which I haven't had up until now," she explains, beaming her trademark, toothy grin as she announces the first pie that will emerge from her new toy. "My grandfather's pomodoro. That's very dear to me." Famed filmmaker Dino De Laurentiis' influence will also come through with cocktails inspired by his cinematic pieces, but beyond that, Giada is all about its eponym.

In composing her menu, De Laurentiis was sure to include some iconic dishes from repertoire. The iterations gracing Giada's bill of fare have undergone innovative twists to elevate them to restaurant dishes. Lemon spaghetti, petite marsala herb chicken meatballs, and vegetable Bolognese rigatoni will sound familiar to frequent viewers.

Also highly valued by the first time restaurateur is the dessert program. A sweets fanatic, De Laurentiis will serve up a variety of sugar-laced end notes, offered on a cart making continuous sweeps through the dining room. "I want people to see it and be ready and hungry for dessert," she says with a twinkle in her eye. "It's like the bread carts at upscale French restaurants. Until you see it, you think you can hold off, but once that cart is there with all of those fantastic breads, you're like, 'oh, I have to try that!'"

Brilliantly tart lemon ricotta cookies and sorbets will pair beautifully with unimpeded views of Bellagio's sky-scraping water show and the vast Caesars Palace campus. Of course, no one will blame fans sticking with what they're used to, opting to fix their visage on an open kitchen where they
can see Italian food given fresh Southern California treatment live.

"This is a way for my fans to get closer to me and I'm excited to provide that," says De Laurentiis, leaving zero doubt of the authenticity and commitment behind that sentiment and the love she harbors for her first public offering. (702.777.3777, www.thecromwell.com)     Brandon Hernández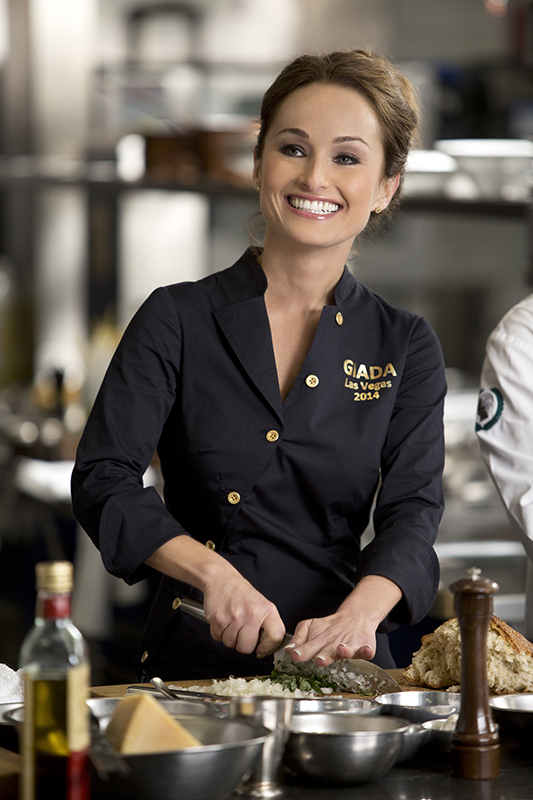 Pink hard hat: Photo by Brandon Hernández