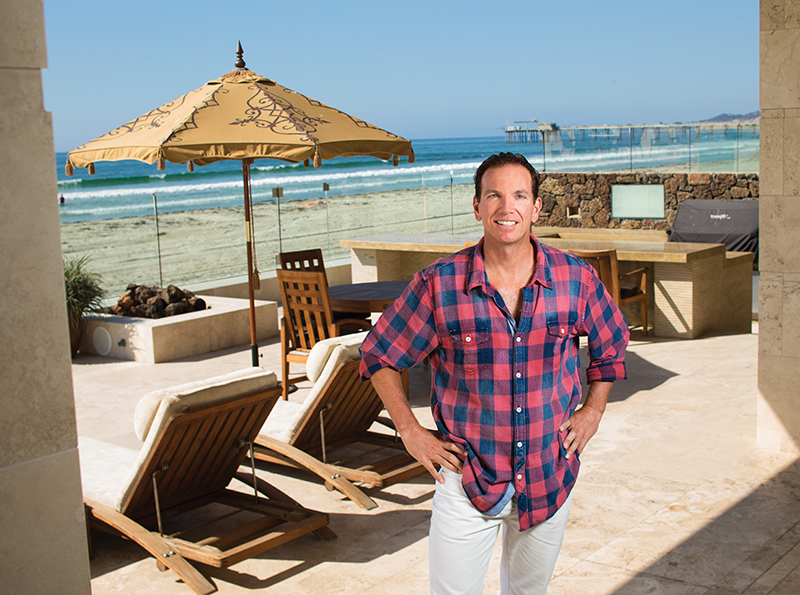 At Home With Jeff Jacobs
Published October 4, 2012
It was in the middle of the night in Nairobi, Kenya. Jeff Jacobs, who was heading up Qualcomm's global operations at the time, awakened with an epiphany. "I started singing the song, "Cats in the Cradle," about my kids growing up while I was away," he remembers. After years on the road, Jacobs decided it was time to return home to San Diego: "It's time for other challenges in my life," he thought, "and to spend more time with my family."
Jacobs and wife Deni are raising two sons, dividing their time between their Rancho Santa Fe home and a Balinese-inspired beach house in La Jolla Shores. It is here that Jacobs, looking relaxed and fit after a regimen of cycling and yoga, welcomes Ranch & Coast to what was once a '50s beach shack, now a two-story haven just steps from the sand where he grew up. "I always dreamt of being able to buy a house here," he says. "Of course, when we were blessed with success at Qualcomm, that became possible."
Working with architect Bill Hayer and interior designer Helene Ziman, the Jacobses created a relaxed yet refined home. "One of the challenges," says Hayer, "was achieving intimacy, but also handling large-scale entertaining." The house succeeds on both fronts. "When people walk in, they say, 'Wow, this feels like a special place,' but it's also very livable and a place to have a lot of fun," says Jeff. "I don't mind my children running around. I throw parties here. So it's very flexible and functional."
Rather than breaking up the main living area into smaller rooms, the Jacobses opted for a dramatic open space that serves several functions, from dining at the large wood table inlaid with travertine, gathering around the curved bar with its custom cabinets, or lounging on the long leather couch that overlooks sea and sand. The deck, with walls made of lava rock, has chaise lounges, a fire pit, and an outdoor kitchen for entertaining. The raised spa is also a water feature, with water spilling over all four sides into a pool, deep enough on the seawall side so Jeff can stand at the edge, drink in hand, and take in the view (his favorite spot).
Water is a key concept flowing throughout the house, from a sculpture at the entrance, to sweeping ocean views through an expanse of glass in the living area where pocket doors disappear into stone wall forms. Other aquatic touches: a teak bridge, lined with tropical plants, crosses over a water element leading to the front door where there's a waterfall with a geode.
The home's design also was heavily influenced by travels to Southeast Asia, Hawaii, and Bali, where Jeff says they "fell in love with the Balinese style." Coffered ceilings reminiscent of Balinese huts were constructed of dark Mozambique wood and reddish koa, in striking contrast to light travertine floors that stretch from the front entry to the outside deck. Throughout the house, there is artwork picked up on the couple's travels: a Buddha from Hong Kong, a mask from Thailand, trunks from India.
The home reflects Jeff's design aesthetic of "comfortable luxury and understated sophistication," the philosophy that also guided the redo of Rancho Valencia, the luxury resort and spa he owns with brothers Gary, Hal, and Paul, sons of Qualcomm co-founder Irwin Jacobs and his wife Joan. As we reported last month, Jeff and Hal, along with Doug Carlson and Jeffrey Essakow, are the operating partners who manage the resort, which re-opens later this month after a $30 million renovation. The Jacobs family all had a hand in its transformation — Deni, for example, is teaming up on Sheridan, a boutique offering gifts, accessories, and apparel, with Fairen Del's Irina Rachow.
Jeff calls his mother and father "incredible parents and amazing mentors." "They've shown that the way to success is through hard work and to give back. I think all of us are following in their footsteps. And at the same time, we all tend to be fairly competitive people, driven people, and ambitious people, so all of us want to leave our own mark.
Jeff is on the boards of Rady Children's Hospital, the University of California at Berkeley, and Big Brothers Big Sisters of San Diego County, among others, as well as San Diego State's Director's Cabinet, which promotes Aztec athletics. He and Deni are involved with Education Enrichment Systems (EES), a nonprofit child development program for low-income families. They also support such fine arts organizations as the Old Globe Theatre, where Deni serves on the board and co-chaired the group's 2010 gala. (Their first date was at the La Jolla Playhouse, where they later backed Jersey Boys.)
While Jeff has competed in four Ironman triathlons, he now prefers less "punishing" athletic pursuits, like this month's 620-mile Dodge Million Dollar Challenge, a seven-day, sold-out bike ride from San Francisco to San Diego, a fundraiser for partner Jeffrey Essakow's Challenged Athletes Foundation. The Jacobs helped to create the Deni & Jeff Jacobs Challenged Athletes Center, the foundation's headquarters and training facility.
Since that night in Nairobi, Jeff has, indeed, found time for new challenges. Whether raising his family or raising money for charity, renovating Rancho Valencia or designing his own beach house in La Jolla, Jeff is building on his family's legacy — and making his own.     Andrea Naversen