Made in America: Baseera Khan at Lux Art Institute
Currently at the Artist in Residence at Lux Art Institute in Encinitas, artist Baseera Khan uses a multitude of mediums for inspiration
Baseera Khan is first and foremost an American artist. Denton, Texas-born, Khan grew up in the Dallas-Fort Worth area and received a Bachelor of Fine Arts from the University of North Texas, then moved on to receive a Master of Fine Arts from Cornell University. Now living in Brooklyn, New York, Khan, who uses the pronoun "they" and identifies as a native Muslim-Femme American (a term that responds to growing up in the United States queer femme), is currently working on their first solo museum exhibition with the Brooklyn Museum of Art.
Like many Americans, Khan's parents were not born in the United States. Khan's father is Afghani and East African by birth and their mother is Iranian and Indian. Khan's parents met in Bangalore, India, where Khan's father was a self-taught chemist who later became a community leader and chemistry professor who initially travelled to the United States to earn his doctorate at the University of North Texas. It was the late 1970s and his intention was to return to India, but because of a renewal in hostility toward Muslims at that time resulting from the British Occupation and Partition, he instead brought his wife and older children to Texas, where Khan was born in 1980.
While Khan is an American to the core, living in the United States their religion and sexuality compel them to consider notions of identity and otherness and the power they have to disenfranchise and marginalize. Khan's response is to focus on lived experiences, looking to develop visual languages that illuminate the voices of people who are not white, Christian heterosexuals, a group that now comprises more than 40 percent of the U.S population.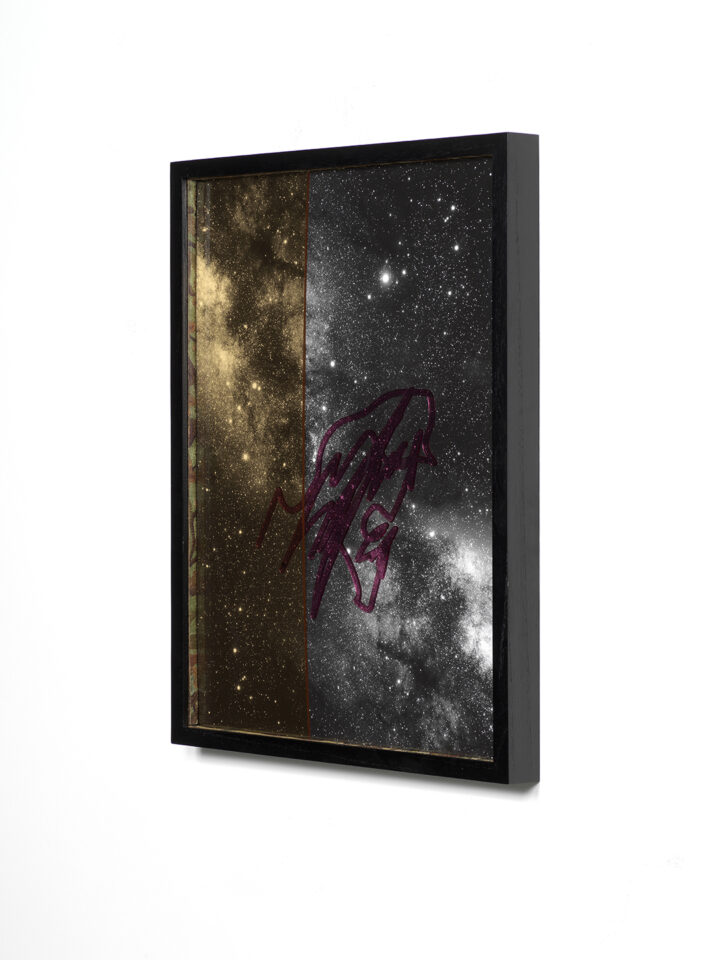 Khan is aware of the benefits living in America has bestowed on their family, but at the same time the excesses, inequality, and violence that currently characterize life in America and the world are central to Khan's work as well. Recently, with the highly-publicized police shootings of Black Americans and the rise in attacks on Asian Americans in response to the coronavirus pandemic, the physical aspects of disenfranchisement and marginalization have come to the fore, and Khan's body and its various heritages are critical instruments in the creation of their art.
Khan uses fashion, photography, textiles, and music to create sculptures, installations, and performance art, and fortuitously for San Diegans they are currently the Artist in Residence at Lux Art Institute in Encinitas, where their works will be on display until June 5.
One of Khan's performance pieces involves climbing a 30-foot wall using holds cast from the corners of their own body, leaving behind a tracing of their movement in charcoal. Khan's exhibit at Lux also involves their body, though in a different way.
"I'm just a pop culture kid who is Muslim," says Khan, who for the Lux show has fashioned a remarkable collection of one of the most common items found in Muslim homes across America — the prayer rug.
Practicing Muslims pray five times a day and it is not unusual for Muslims to have numerous prayer rugs within their homes, some chosen simply for their design or color, others for the meaning of the words or symbols embroidered on them. Like many religious articles in the United States, prayer rugs are now mass produced. Faith, however, remains an extremely personal and physical act and some of Khan's prayer rugs are in fact collages created from pieces of these manufactured prayer rugs layered together with fabrics used for veils, head coverings, and other fine textiles. Some even include undergarments bearing the names of designers, highlighting the extraordinarily intimate way in which our mechanized, consumer society touches our lives and bodies even during a moment as private as prayer.
It is powerful work and like the artist, who will be in residence through mid-May, it was made in America. luxartinstitute.org