Del Mar National Horse Show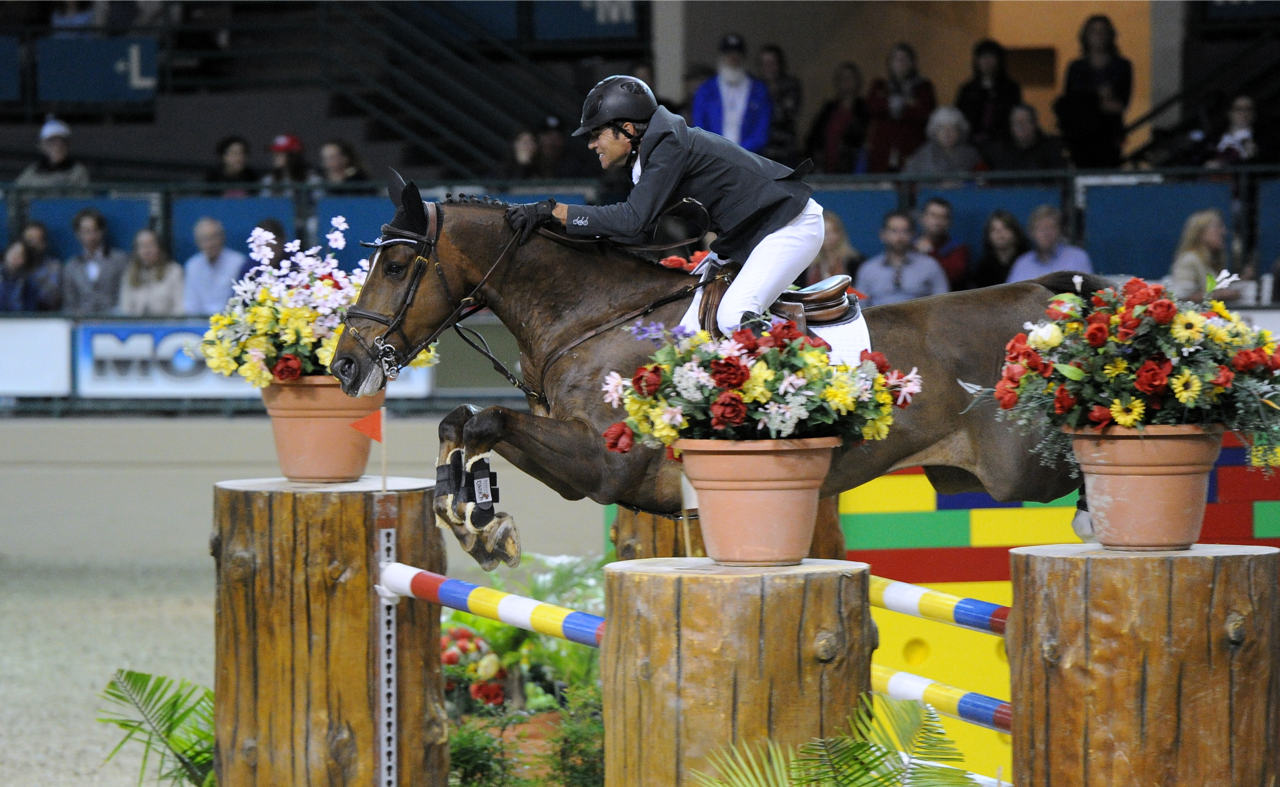 Del Mar National Horse Show
Apr 22, 29 & May 6, 2017
The 72nd Del Mar National Horse Show will host three unique events to showcase the equestrian disciplines of Western, Dressage and Hunter/Jumper on the Saturday evenings of the three-week show, on April 22, 29, and May 6 in the Del Mar Arena.
The Del Mar National Horse Show carries international acclaim through its qualifying events for Olympic, World Champion and World Cup events. San Diego is indeed fortunate to have such exciting competitions available to the public. Many of the exhibitors are local San Diegans while others will travel across the country and from overseas for this event.
In the true festive nature of equestrian sports, spectators can be within arm's reach of the competition while enjoying a gourmet dinner in a box of six seats. General admission stadium seats also are available, and food and beverage vendors are on site. Competition classes held during the week are free to the public. delmarnational.com, ticketmaster.com 
---
The Night of the Horse, April 22, 7pm
Extraordinary horsemanship and world-class performers are showcased in this action-packed event, which demonstrates and shares unique horse and rider teamwork. Performers include the One Arm Bandit, who has won the Professional Rodeo Cowboy Association award 15 times, and Sylvia Zerbini, acclaimed star of Cavalia who will present " At Liberty," a breathtaking performance with eight to ten of her Arabian stallions. Aaron Ralston, a top-ranked professional horseman, will perform at Del Mar for the first time. He will display award-winning reining skills for which he has won numerous accolades including the World Equestrian Games in Germany.
Also for the first time, charro and rope artist Tomάs Garcilazo and his family will perform a unique tribute to the Mexican "Dia de los Muertos" celebration. Through his proficiency and skills as a horseman and rope artist, Garcilazo will bring to life a colorful and joyful event representing the traditions and talents of the Mexican horseman and his ancestors.
Spencer Rose and Ambra Zerbini will perform Roman-style and trick daredevil riding using rodeo and circus skills. Arizona Mini Mystique will show off their miniature horse driving skills exposing the small horses' beauty and versatility; and some of the world's largest horses, Belgians and Clydesdales, will demonstrate their powerful abilities in the arena.
Evening of Musical Freestyles, April 29, 7pm
Olympic, World, and National Champions demonstrate the artistry, athleticism, and inspiring collaboration between horse and rider in a perfect display of strength and elegance choreographed to music.  Viewers needn't be experts in the sport of Dressage to be astonished and awed by this competition.
Freestyle to Music, sometimes known as Musical Kur or simply kur (from German kür, "freestyle"), is a form of dressage competition where the horses' paces are set to music to create a competitive "dance." Movements and figures are choreographed to meet the technical requirements of the particular level with carefully chosen music that highlights the horse/rider combination. Musical Freestyles are more than entertaining and offer great audience appeal.
$100,000 Grand Prix of Del Mar, May 6, 7pm
This sporting event entertains a crowd of enthusiastic fans cheering on their favorite athletes. The finest horses and riders in the world rise to the occasion and thrill their spectators with exciting speed and agility. Horses and riders set the bar very high — literally and figuratively — as they compete for the prestigious title and hefty prize.
These competitions take place over a course of show jumping obstacles, including verticals, spreads, and double and triple combinations, usually with many turns and changes of direction. The intent is to jump cleanly over a set course with the fastest time. Time faults are assessed for exceeding the time allowed. Jumping faults are incurred for knockdowns and blatant disobedience, such as refusals (when the horse stops before a fence or "runs out"). Horses are allowed a limited number of refusals before being disqualified. A refusal may lead to a rider exceeding the time allowed on course. Placings are based on the lowest number of points or "faults" accumulated. A horse and rider who have not accumulated any jumping faults or penalty points are said to have scored a "clear round." Tied entries usually have a jump-off over a raised and shortened course, and the course is timed; if entries are tied for faults accumulated in the jump-off, the fastest time wins.